Construction Claims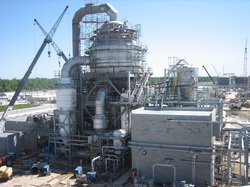 Construction claims are an important part of the construction industry. During the course of a construction project disagreements may arise about the responsibility and / or quantification of changes and modifications. It is important to be able to present or defend a claim completely and accurately. While attorneys know the laws concerning construction they often do not have the background and expertise to measure and quantify the extent of the claims. CCL has the knowledge and experience to work with many types of claims including delays, acceleration, productivity, and total cost.CCL Construction Consulting, Inc. has extensive experience in construction claims, having been on all sides of a claim, from defendant to claimant to arbitrator. CCL can aid contractors, owners, architects, and attorneys to work through a claim, as well as provide valuable information, insight and experience. Our involvement can vary greatly depending on client needs and directions. We can review claim documents and materials that have already been prepared for their completeness and accuracy, and provide feedback with our knowledge of which documents and information will be needed to review, contest, or prepare claims, in addition to being able to fully perform these tasks.
CCL personnel continue to write articles for industry magazines and journals and have contributed to five books published on claims, project scheduling, delays, disputes, and dispute resolution. Please click
CCL Publications
to view these publications, and to follow the link to order books. Michael Callahan is also the contributing editor of the monthly publication
Construction Law Digest
that is available in e-format.
CCL can also be selected as the independent IDM, "Initial Decision Maker", a dispute resolution process revised under the AIA contract documents A 101-2007, Section 6.2, between an owner and contractor that allows parties the option to choose and consider the best dispute resolution process for their project. As the chosen IDM, CCL can provide value to the project by addressing claims as they arise, a more cost effective method of dispute resolution than allowing claims to accumulate until the conclusion of the project
DELAY CLAIMS
CCL provides delay claim evaluations of the causes, responsibility and costs of project delays using CPM scheduling techniques. Familiarity with scheduling techniques, construction methods, scheduling hardware and software, and the professional judgment gained from "hands on" construction and design experience enables CCL to recognize bias in schedules, identify schedules that have been manipulated to distort the impact of delays on the project schedule and costs, and to provide accurate evaluations of delay claims. Click to view a list of
projects.


DAMAGE CALCULATIONS
CCL is a recognized authority in evaluation of damages resulting from project delays, claims, change orders, and variations. A staff of experienced engineers enables us to provide accurate and detailed cost and damage evaluations. CCL's specialized experience in identifying the impacts and costs associated with delays is of particular value in calculating damages. Click to view a list of
projects.
DEFECTS EVALUATION
CCL is experienced in the evaluation and management of remedial work and correction of construction deficiencies. Familiar with building codes and standards, CCL provides investigations and evaluations of construction or design deficiencies to define required corrections. CCL's evaluation can be used to develop plans and specifications to correct deficiencies. CCL provides experienced project management and oversight services to monitor contractor's remedial work, schedules, and payments. Click to view a list of
projects.
ARBITRATION / LITIGATION
CCL has successfully presented technical and cost evaluations to courts and arbitration panels and has been retained by project owners, government and municipal agencies, construction firms, architectural/engineering design firms and leading construction law firms to organize and prepare construction claims, delays, and disputes for presentation. Click to view a list of
projects.
Contact us
for additional information on construction claims, delays, damages, defects, arbitration, and how we may help you.
---